header
Canyoning with purelements®
Canyoning with purelements® – your canyoning provider in the Allgäu!
Sometimes wild, sometimes picturesque – in any case natural! Experience beautiful gorges and canyons in the Upper Allgäu and the neighbouring regions of Austria. Get to know a new perspective, cross your borders under our professional guidance. Everything with the canyoning team from purelements. Canyoning is probably the best way to combine mountaineering and water sports. Born out of the necessity and curiosity of the human being, it inspires many adventure seekers and also those who want to enjoy nature in a pure and unadulterated way.
We at purelements offer you exactly this interesting and modern mixture of the extraordinary natural experience "Canyoning" on our canyoning tours in the Allgäu, Lechtal, Kleinwalsertal, Tannheimer Tal, Vorarlberg and on canyoning trips in Europe and around the world. We pay particular attention to security! For this we have specially developed security standards and our very small group sizes enable optimal care. Because you are the most important thing for us!
Many new experiences are waiting for you with canyoning in the Allgäu.
We look forward to accompanying you!
Slide 1
Our highlight - canyoning in the Starzlachklamm
Video 1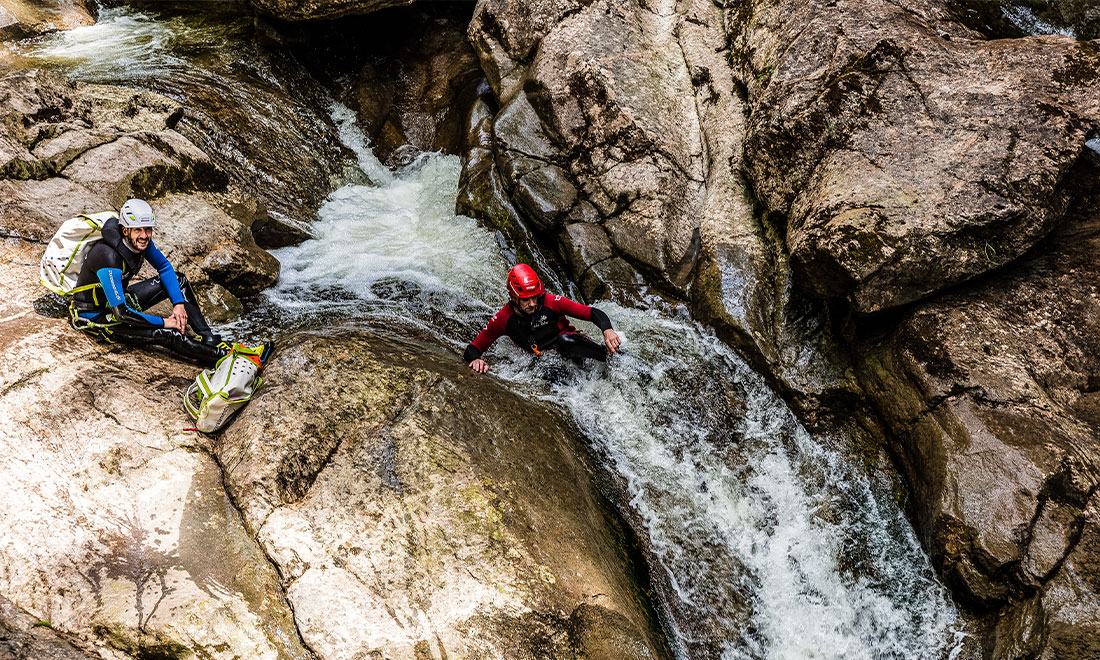 Jump into the canyoning world with us!
Difficulty levels
There are many classifications for levels of difficulty and requirements in canyoning. We at purelements divide our tours into the following levels of difficulty in order to offer you an optimal canyoning experience. Difficulty doesn't always mean that something has to be difficult. Our guides are there for you to support you with the challenges and to prepare the way for you, to install the ropes and to secure you.

Simple canyoning tours (our "basic" level) often offer many alternatives in the gorge, sometimes even skipping individual passages. The abseiling heights are low up to approx. 15 meters, jumps and slides are, as always, optional and up to approx. 3-4 meters high. The length of the canyons is also in the range of 2-3 hours.

A special form of simple tours are our family tours (canyoning family), where we specifically cater to children and families, provide child-friendly instructions and the focus is on the children's experience and mastering the challenges.

Advanced tours are usually longer than the basic tours (3-7 hours), offer higher abseiling points up to approx. 35 meters and also higher jumps and slides, which are also always optional here. This level, which we call "Canyoning pro", is also suitable for sporty beginners and therefore also possible for mixed groups.

The main difference between expert canyoning tours is that it is getting more difficult and physically harder. High abseiling points, long mandatory passages or even tough waterfalls make up an expert canyoning tour. A certain and relatively high own proficiency is necessary to be able to master the passages. That is why it is necessary for this level to have already done a tour with us before, so we can teach you the necessary skills for an extreme canyoning tour.
Special offers
In addition to our canyoning group tours from beginners to experts, we offer canyoning lovers a few other specials and special tours. You will also find one or the other inspiration for a slightly different outdoor holiday on our page for canyoning trips.