header
Your canyoning
provider in Germany
Go on outstanding canyoning tours with purelements
You, the power of the elements, a breathtaking panorama and a group you can rely on: This is canyoning in its best and original form. On a canyoning tour with the guides from purelements you will experience what it feels like to surpass yourself. How good it is to gain confidence in yourself and to develop mindfulness towards an unspoilt nature that only us canyonists can see in this unique way.

Canyoning with purelements is authentic canyoning, because we are interested in the real, timeless experience. During our tours we therefore do without everything that does not belong in the wild and concentrate on the essentials: on your unforgettable nature experience, your safety and on the desire to have action-packed fun together as a group while we are climbing, diving, jumping, sliding or abseiling.

The canyons that we regularly conquer include Starzlachklamm, Schwarzwasserbach, Strindenbach, Kobelache and the Stuibenfalls on the Plansee. Our tours are based on a proven and certified safety concept and follow a philosophy in which experiencing closeness to nature and mindfulness are among the top values.
Slide 1
Our highlight - canyoning in the Starzlachklamm
Video 1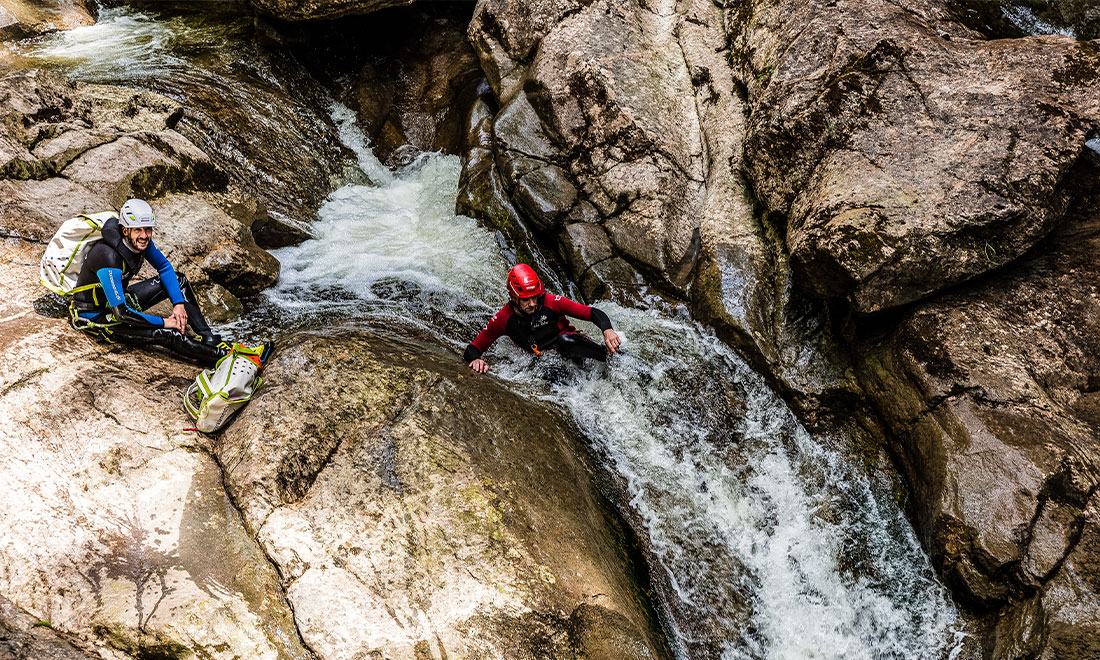 Jump into the canyoning world with us!
Book your individual canyoning tour with us! – Gorges, regions and levels according to your taste
We have our company headquarters from purelements in Sonthofen in the Allgäu. At home and on the move, we are everywhere where exciting gorges and outdoor adventures can be climbed and experienced. If you are interested in canyoning, look under the menu item of the same name to see in which gorges and regions our guides will accompany you.
We conduct all canyoning tours in small groups or as private tours by. In this way we can address people at different levels and offer the right event for everyone: that Basic level for beginners, Family tours for adults with children, the level Canyoning Pro or Expert for advanced and experienced canyonists. In addition, you can go on solitary tours or Team experiences book. We also offer this for people with disabilities Adaptive canyoning at.

And because canyoning is only possible from spring to autumn, we of course have other outdoor events on offer for you and your friends. Ski tour or Outdoor travel - All courses, events and trips accompanied by qualified guides include intensive advice and excellent service.

Are you already practiced in canyoning and would like to conquer a gorge on your own, but do not have the right equipment? No problem! Equipment for canyoning From abseiling equipment to helmets to shoes, you can rent everything you need for your canyoning tour from us - regardless of whether you start your adventure with us or alone. The same applies to via ferrata tours. Helmet, via ferrata set, climbing harness - also a complete one Via ferrata equipment you can borrow from us.
Treat yourself to something: adventure travel and gift vouchers from purelements
Canyoning is a holistic sport that includes swimming and diving as well as climbing and abseiling.
Would you like to focus on other sports during your holiday or during a one-day or multi-day outdoor event or are you currently planning the next ski tour? Then we at purelements are also your reliable partners in the Allgäu, Ticino and worldwide.

For example, we will take you on a top-class boat tour during our canoe trip in Ticino. Or how about a visit to the evergreen Azores, where you practice rappelling in waterfalls instead of just chilling out on the beach and swapping the TV for close-up whale watching?

Where do you want to go and what do you want to experience there? How much time do you have and how much curiosity do you feel? Adventure travel von purelements lead you through gorges in the immediate vicinity or through legendary landscapes in the distance - right up to the Road trip through fascinating South Africa .

Canyoning tours, ski courses, adventure trips and all other purelements outdoor events can be booked directly on our website. If you have any questions, just contact us by phone or email.

If you want to make someone close to your heart particularly happy, treat them to the best with a voucher from purelements. You have the choice between Experience vouchers and Vouchers . With an experience voucher, you already decide which event you would like to send to a friend. If you give away a voucher, the recipient can use it as they please if an event is booked through our website.

Are you ready for the next adventure? We look forward to your request!
Experience canyoning in the Alpsee-Grünten holiday region